Indulge in our high-performance, personalized beauty treatments at Sakura Lounge. Our treatments are designed to be decadent, divine, and wonderfully relaxing, while also nourishing and revitalizing your body and mind. At Sakura Lounge, we embrace the Japanese philosophy of "Inner Peace and Outer Glow," which inspires us to deliver exquisite beauty treatments that leave you feeling rejuvenated and radiant. Whether you choose one of our exclusive Coffee & Chocolate Body Scrub and Wraps, Luxury Babor Facials, customised soft pack Spa Facials, or cosmeceutical Doctor Babor Facials, your skin will be revitalized, and you will be glowing with inner and outer beauty. You can view all of our beauty treatments below or combine beauty and massage treatments for a truly bespoke spa experience with one of our signature package treatments.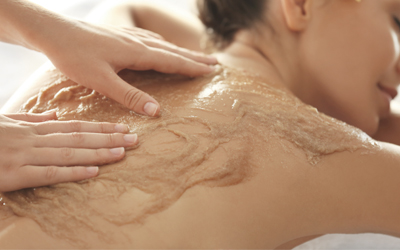 All our body treatments include exfoliation, wrap, and head/décollete massage. Promotes deep healing and repair to devitalized skin.
A skin care solution for everyone and every skin condition. After your skin is cleansed, exfoliated and massaged with our premium botanical Babor skincare products.
Sunday bookings require a surcharge $10 for treatments/$15 for packages per person
Public holiday bookings require a surcharge of 10% per person and full payment to secure as we are open by appointments
We have a cancellation/rescheduling notice policy (24-hour for one or two people, and a 72-hour for groups/three or more people). Please call (if you cannot reach us, please send us email) for any changes before these timeframes to avoid a penalty/full cost of your booking.
Please arrive 15min prior to your booking time. We will need to shorten your session duration if you are late.
If you are pregnant and under 13 weeks, we won't be able to perform any treatments. You will forfeit your booking if you inform us up on arrival. We can offer a Pregnancy massage or Head to toe package with Pregnancy massage upgrade or Perfect harmony package with Pregnancy massage upgrade if you are in 2nd or 3rd trimester.
If you have compromised immune system, blood clots, or any serious medical conditions, kindly acquire a medical certificate from your doctor.

Our massages are performed by our male therapists and female therapists. Please let us know if you have any cultural restrictions.



If you booked after – 4PM on Sun/Mon, 6PM on Tue/Fri/Sat, 5PM on Wed/Thu, your balance payment will be automatically deducted from your card on the booking day. Please make sure you have sufficient funds. If you did not use any card to make a deposit when you made a booking (booking value under $150), our receptionist will call you on the day to finalise your payment.
Our automatic confirmation or reminder does not contain your guest information. Please send us your guest's contact details if you'd like them to receive reminder directly.
Please check our FAQ (https://www.sakuralounge.com.au/faq/) Terms & Conditions (https://www.sakuralounge.com.au/terms-conditions/) Privacy policy (https://www.sakuralounge.com.au/privacy-policy/)